text.skipToContent
text.skipToNavigation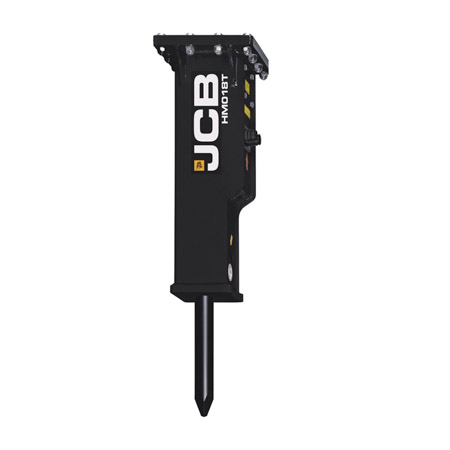 Hydraulic Breakers
JCB, Hydraulic Breaker, HM018T, 1.5 - 4.0 Ton
Carrier Weight ( Ton ) : 1.5 - 4.0
Operating weigh ( Kg ) : 187
Pressure ( bar) : 90 - 120
Machine Compatible Brand : JCB - 8020 - 8040, 1CX, 1CXT
Warranty:
2 year limited warranty
Expected delivery of quantity in 130 days
The HM018T has been designed specifically for use on mini excavators and 1CX Backhoe Loaders.  It is available with three hanger options - Top mount, Fixed side mount hanger and a universal option (without hanger bracket and hoses) for use on non JCB machines.  JCB Breakers also come with a gas tool kit for ease of maintenance.
Fully approved and CE marked as appropriate
Manual greasing system
Comes with a moil and chisel as standard - full range of working tools also available
PREMIUM PRODUCTIVITY
Stroke adjusters fitted on HM049T breaker and above allows the operator to adjust tool speed and stroke lengthAuto stop feature protects from blank firing which could cause unecessary wear and damage to the breaker.
Internal control valves deliver higher efficiency and is less vulnerable to damage.
Refillable auto greasing system is available on HM080T and above for reduced maintenance.
READY TO GO
JCB Contractor Breakers are supplied ready to work hard. The HM054T and below comes with two tools and HM080T and above comes with one as standard.
Side mounted hanger options available on HM012T- HM049T enables the breakers to tuck in close to the machine.
A top mounted hanger option is available on all models in addition to a universal option without hanger bracket enabling it to be used on other brands of machinery.
TRIED, TESTED AND TOUGH
All breakers are fully approved and tested as part of every machine development programme. This in turn means each unit is CE marked as appropriate.
| | |
| --- | --- |
| Model | HM018T |
| Brand | JCB |
| category | Hydraulic Breaker |
| Weight Catagories (ton) | Mini Range ( 0.5 - 9 ton) |
| Carrier Weight (ton) | 1.5 - 4.0 |
| Pressure ( bar) | 90 - 120 |
| Operating Weight (Kg) | 187 |
Added to Your Shopping Cart